Description
Technical data:
Operating voltage / frequency:
230V AC / 50-60 Hz
Strength of current:
3.8 Ampere
Distance between poles:
with adjustable poles: 125-210 mm
with straight poles: 160 mm
Pull-off-strength:
> 15 kg
Magnetic field strength with adjustable poles:
Pole distance 210 mm: 45 A/cm
Pole distance 160 mm: 50 A/cm
Pole distance 125 mm: 68 A/cm
Magnetic field strength with straight poles:
Pole distance 160 mm: 60 A/cm
Magnetizing current:
AC
Dimensions:
L260 x D50 x H195 mm
Weight:
incl. adjust. Poles: 4,0 kg
incl. straight poles: 3,7 kg
Cable:
5 m safety cable with safety plug

Delivery content:
MR 56 Hand yoke
adjustable poles
User manual
Electr. protocol BGV A3

MR 56 Hand yoke is delivered with straight poles. The articulation piece (Art. 56-1) (for extension, to have articulation poles) can be purchased extra.

When testing special forms (e.g. tubes, fillet welds) poles 45° (Art. 51-3 / 56-3) can be mounted either to the articulation piece (Art. 51-1 / 56-1) or directly to the hand yoke.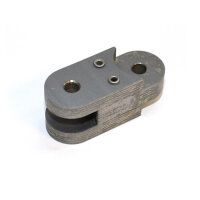 Articulation piece for MR 56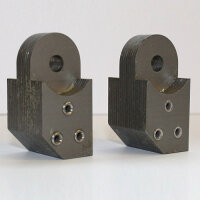 Pol 45° für Handmagnet MR 56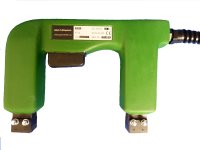 Hand Yoke GAZ-230FP
Tiede Handmagnet TWM 220 N